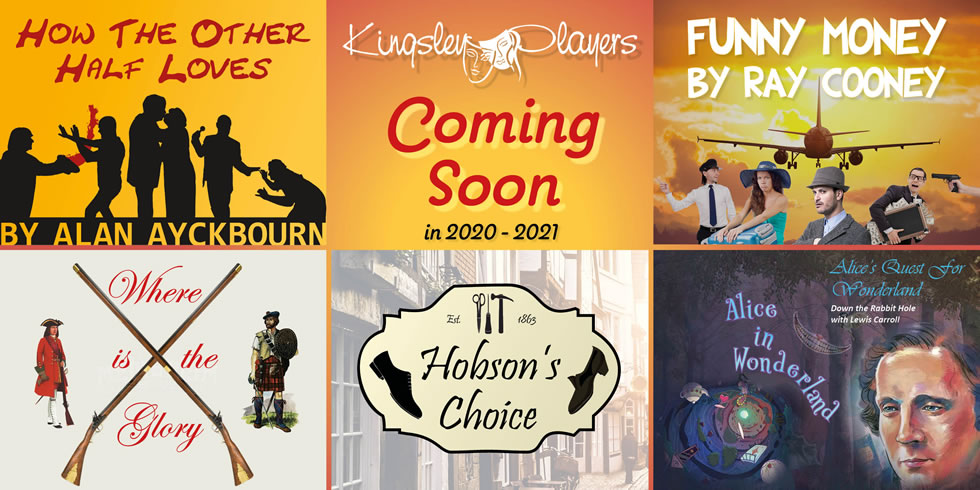 13Aug 20
We are excited to announce some of our upcoming productions
Thank you to everyone who tuned into Kingsley Players Youth Theatre's 'In Your House' series of online productions. A huge thank you to those who kindly made a donation – we really appreciate the support!
We cannot wait to get back on stage and in front of a live audience, and we are excited to announce some of our upcoming productions!
Kingsley Players will be presenting two comedies, 'How the Other Half Loves' by Alan Ayckbourn and directed by Malcolm Barker, and 'Funny Money' by Ray Cooney, directed by Simon Hetherington, who is making his directorial debut with the group!
After winning 'Best Youth Production' at the recent Cheshire Theatre Guild awards for their production of 'Chatroom', Kingsley Players Youth Theatre will be presenting the family favourite 'Alice in Wonderland', which will be accompanied by a new production 'Alice's Quest for Wonderland: Down the Rabbit Hole with Lewis Carroll', and the hard-hitting 'Pronoun' by Evan Placey.
Keep an eye out for announcements of when these will be performed.
We are looking forward to welcoming you all back – hopefully in the near future!